Mope.io Rhino is the twelfth animal in mope.io and the land is equivalent of the shark and the wolverine. It is faster than most animals in land and water and evolves at 250K.it upgrades from the Crocodile, Polar Bear, and Octopus to the Hippo, mammoth or the Killer Whale.
What You Need To Know About Mope.io Rhino
Mope.io Rhino can eat anything starting from the deer to the crocodile and their equivalents and all food items. It can dash like other animals with a left click or the W key. This makes the Rhino's horn point straight, and the Rhino rushes forward. When an animal is hit by a charging Rhino, the animal is stunned, knocked back, and loses twice as much health which makes it easier for Mope.io Rhino to capture its prey. It can also go through the mud at a slightly faster speed than other animals. It can also pass through and hide in through water spots.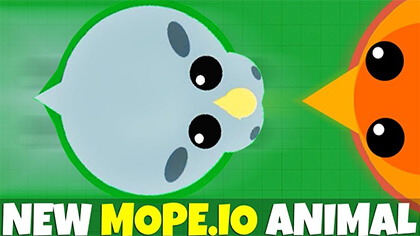 The Appearance Of Mope.io Rhino
Mope.io Rhino has a gray circle base with a darker gray ears and nose. They also have black eyes with white pupils along with a light beige horn. It also has wide snout oval nostrils. Since Mope.io Rhino can go through the water spots at a very normal speed you should hide inside the water spots to wait for the prey. Avoid colliding with the crocodiles in the water spots as they are faster in the mud and will definitely harass you. If a cheetah, gorilla, or bear comes by, chase them down and get them to about a quarter of their health left. When you are confident enough you can take them down slowly when a quarter of their health is left. If you come across a Hippo, Killer Whale or a Yeti, run away