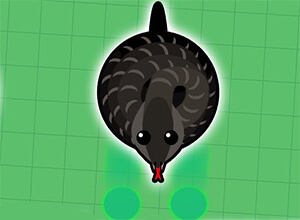 Mope.io Cobra which was formerly known as the black cobra resembles the Rhino. When its ability is activated, it will read Hiss and two venom balls would be spat by the Cobra. This is one of the most poisonous animals in the Mope.io game.
All About Mope.io Cobra
The venom of Mopeio Cobra slows down the victim by 10% and drains all its health until it has no more strength left. On the occasion where another animal tries to bite an infected animal, they too will be poisoned with similar effects. If an animal bites the cobra, it will be poisoned unless it's the Giant Spider. The Giant Spider can escape the venom of Mope.io Cobra. Use your venom to slow down prey and ward off predators. Eat your prey before the venom wears off, and also ensure that they can't eat because that makes the venom wear off faster. If you are threatened by a predator, poison it and run away.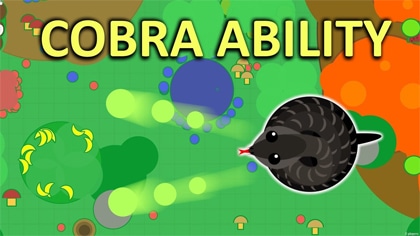 Appearance Of Mopeio Cobra
Mope.io Cobra is a coil of dark gray and light gray stripes. Its tail is large and a large forked tongue protrudes from its mouth, with two deadly poisonous fangs curving alongside it. Unlike many animals in Mope.io, the Cobra is one of the most difficult animals with patterns and ever-recognizable coils. Hold W to spit venom and poison all the animals except the spider with a single bite.
Mope.io Cobra upgrades from the Croc, Octopus, and Polar Bear to the Boa Constrictor, Hippo, Wolverine, and Sabertooth tiger at 250K XP. If you see a predator with low HP, then you can spit poison at them and they will either turn them into meat or eat them automatically if they have low health. Play with the deadliest snake in the game and stick till the end. If you want to play with a different character instead of this Mope.io character, you can try Mope.io Hedgehog.